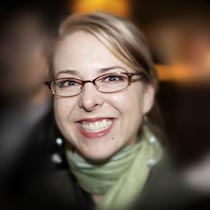 Emily Lewis
Managing Editor
Emily Lewis is a freelance web designer of the standardista variety, which means she gets geeky about things like semantic markup and CSS, usability and accessibility. As part of her ongoing quest to spread the good word about standards, she writes about web design on her blog, A Blog Not Limited, and is the author of Microformats Made Simple and a contributing author for the forthcoming HTML5 Cookbook. She's also a guest writer for Script Junkie, .net magazine and MIX Online.
In addition to loving all things web, Emily is passionate about community building and knowledge sharing. She co-founded and co-manages Webuquerque, the New Mexico Adobe User Group for Web Professionals, and is a co-host of the The ExpressionEngine Podcast. Emily also speaks at conferences and events all over the country, including SXSW, MIX, In Control, Voices That Matter, New Mexico Technology Council, InterLab and the University of New Mexico.
Photo by Nick Finck.