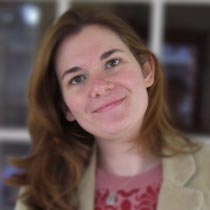 Kelly McCarthy
Project Manager, Information Architect
After spending nearly a decade as a private tutor, Kelly first began crafting IA and managing web teams in 2006. Years of explaining theorems and conjunctions to confused students prepared her well for her role as translator between clients, designers, and developers. With a sassy mixture of "hyper-organization" syndrome and business savvy, Kelly often finds herself assisting clients with their overall business strategies in addition to their online one.

She and her partner, Aaron, own Easy! Designs, a boutique web consultancy based in Chattanooga, TN, but she's also worked with companies like Happy Cog Studios on select projects. Kelly has managed projects for organizations such as TED, Fourth Story Media, WikiHow, and the Web Standards Project (WaSP). She also recently co-founded Retreats 4 Geeks, an alternative web technology training series focused on hands-on learning for web professionals.

Outside of the office, Kelly enjoys working with community organizations, toiling in her garden, and scaring herself silly watching horror movies. Her Twitter alias, @ShirleyTemper, was the inspiration for "Shirley" the Sherpa mountain goat's name.