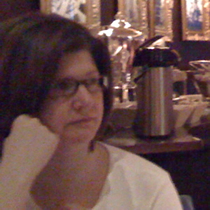 Bridget Stewart
Internet Theorist
Bridget recently took on the role of Senior Front End Developer for Vitamix.com, striving to improve and maintain a rapidly growing, responsive e-commerce site for high-performance blenders. Yes, blenders!
She is from tropical Cleveland, OH, where she and a couple friends founded Rustbelt Refresh, a single day event dedicated to web design and front-end development. She also co-organizes the Cleveland Web Standards Association and is a member (read: lurker) of the Responsive Images Community Group.
Bridget's inane, unnecessary observations are hurled at Twitter instead of her neglected blog, Shallow Thoughts. Every so often she vows to post more frequently on the blog, but ends up playing video games instead.
Reviews by this author
Creating modular systems allows us to write less fragile, easier to maintain HTML and CSS. Bridget explains why this approach is good for small and large sites alike.