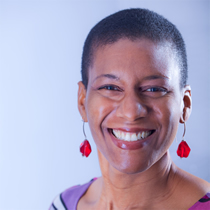 Denise Jacobs
Creativity Evangelist
Denise R. Jacobs is a Speaker + Author + Creativity Evangelist who speaks at conferences worldwide and consults with companies and individuals, teaching techniques to make the creative process more fluid, methods for making work environments more conducive to creative productivity, and practices for sparking innovation.
Working in Web Design & Development since 1997, she is an industry veteran and regarded expert on many things web. Denise is the author of The CSS Detective Guide, the premier book on troubleshooting CSS code; co-authored the Smashing Book #3: Redesign the Web and InterAct with Web Standards: A holistic guide to web design, and was nominated for .Net Magazine's 2010 Best of the Web "Standards Champion" award. Denise has presented at events and organizations worldwide such as South By Southwest Interactive, the BBC, The Future of Web Design, Paris-Web, FITC: Future, Innovation, Technology, Creativity; TEDxRheinMain, Automattic, Google, GitHub, and FastWeb.It.
From her own experience of embracing and expressing her creativity as well as helping hundreds of people do the same, she is passionate about evangelizing ways to enhance the ways we develop and execute ideas to make them tangible. Denise has recently launched Rawk The Web, an initiative to increase the change the face of the tech industry by amplifying the visibility of diverse tech experts, and through her Creativity (R)Evolution movement hopes to spread the contagion of creativity as a force for positive change.
Reviews by this author
Are you a victim of the endless loop of perfectionism and procrastination? Denise offers solid techniques to help you break free and GTD with the best of them.

Denise explains the importance of storytelling in website and app design by comparing and contrasting two history-focused sites.