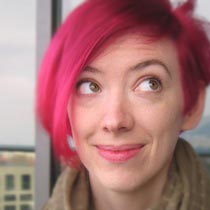 Erin Kissane
Content Maven
Erin Kissane is a content strategist and editor who has been doing some kind of web content work since Netscape Navigator 2.01 was an awesome browser. Since then, she's been editor of A List Apart magazine, editorial director of Happy Cog Studios, and a freelance book wrangler. In 2010, she joined content strategy consultancy Brain Traffic, where she leads content projects and eats cake.
Erin's first book, The Elements of Content Strategy, is forthcoming from A Book Apart in March of 2011. She lives in New York City and Portland, Oregon and blogs at Incisive.nu.
Reviews by this author
We may love our smartphones, but the process of finding good apps can be maddening. Erin tackles the problem of shaping user-generated content via a look at the iTunes App Store and Android App Market.

Erin analyzes the sidebar on a Chattarati.com article and shows us how we can organize supplementary information to enhance the reading experience of our content.

Taking up the WaSP's offer to critique their site, Erin shows how we can fix common content problems with consistency, timeliness and relevance that are important for any site.